Toronto officer who held his fire says he was just doing his job
Comments
By Phil Helsel and Yelena Dzhanova with NBC News World News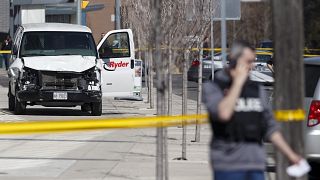 -
The Toronto police officer praised for his restraint after refusing to open fire on a suspect following a deadly van-ramming attack earlier this week says that he was just doing his job, and that the focus should not be on him.
Ten people were killed when the van driver, identified by the police as Alek Minassian, 25, plowed into pedestrians on a sidewalk on Monday. Video showed the suspect claiming that he had a gun in his pocket and shouting, "Shoot me in the head!" but the officer did not fire. No weapon was found.
That officer was Police Constable Ken Lam, who joined the police force as a second career, Deputy Police Chief Peter Yuen told reporters in Toronto on Wednesday. He is receiving treatment following the traumatic event and is doing well, Yuen said.
"He also wants me to express this to the media that the focus shouldn't be on him — there were a lot of first responders that were there that day that looked after a tragic scene," including ambulance workers and good Samaritans, Yuen said.
"He's very selflessly saying he doesn't deserve all the credit," Yuen said.
Lam was not present at Wednesday's news conference. Yuen said that Lam is a key witness in the multiple homicide and that any public statements could be used in court.
Lam's parents, like Yuen's, emigrated from Hong Kong for a better life, the deputy police chief said. Lam entered the police service in his mid-30s after 14 years as an engineer, Yuen said.
"He believes he made the right decision — 'What can I do for this community?' " said Yuen, who has been talking to Lam, 42, who was born and raised in Toronto, since the incident.
When the two men spoke Tuesday, Yuen said, "he understood that he in fact did something for the city of Toronto."
Lam has been on the force for seven years. He started in traffic services and wanted to work in a division where he could interact with the public more, Yuen said. "He wants to thank the public, and he wants the public to not to call him a hero," Yuen said.
Yuen said Toronto police officers train rigorously on de-escalation, decision making and "cool thinking under stress."
"Our training does work, because it was exhibited by Officer Lam," Yuen said. "Because that could have turned into a very tragic situation for more people — for the accused's family, for Officer Lam's family, if he would have opened fire."
A motive in the attack is currently under investigation. Social media posts purportedly made by Minassian refer to "incel" — or internet slang for men who call themselves "involuntary celibates" — and California mass murderer Elliot Rodger.
"This is a long road ahead for this investigation ... for the families of the victims, for a lot of people, for answers," Yuen said. "Those answers will be coming in the future months."
"But for that day, the conclusion was what we wanted, and what we expected," he said.
Minassian, of suburban Toronto, is charged with 10 counts of first-degree murder and 13 counts of attempted murder.