Macrons open US state visit with dinner with the Trumps
Comments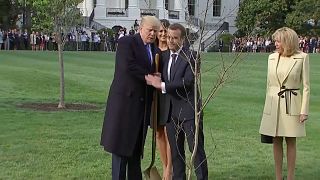 President Donald Trump, French President Emmanuel Macron and their wives have posed for the photographers ahead of a tour of George Washington's historic home at Mount Vernon.
A state dinner and much pop and ceremony and tree planting are set to accompany this, the first State visit of Trump's administration.
But that apart, the two leaders will get down to work today. The three day trip is set to be dominated by differences between the two leaders, in particular the nuclear accord with Iran.
Trump is due to announce whether or not the US will pull out of the agreement in coming weeks. Macron has said there is no "Plan B" for keeping the lid on Tehran's nuclear ambitions.