Hair you go: Trump dusts off Macron's 'dandruff'
Comments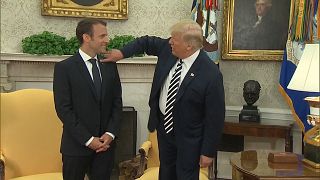 President Donald Trump and his French counterpart Emmanuel Macron have come a long way since their "moment of truth" handshake. 
During a state visit in Washington on Tuesday, Trump dusted off Macron's left shoulder, saying he had to brush off a "piece of dandruff".
"We have a very special relationship, in fact I'll get that little piece of dandruff off … we have to make him perfect, he is perfect," said Trump, as he dusted off Macron's shoulder.
"So it is really great to be with you and you're special friend. Thank you," he added.
Macron appeared confused for a brief moment before laughing with Trump as the press cameras rolled on.
The two leaders have appeared to enjoy warmer ties, even an improbable friendship, with many analysts speculating what's behind the blossoming "bromance".
Macron arrived in Washington on Monday to meet with the US leader in the hope of saving a 2015 international nuclear agreement with Iran, a deal that was struck under Barack Obama's tenure.
Trump has called the Iran agreement a "terrible deal" and "insane".