Watch again: French President Macron addresses US Congress
Comments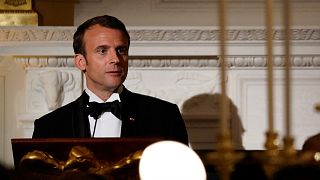 French President Emmanuel Macron addressed a joint session of US Congress on Wednesday following his meetings with President Donald Trump at the White House.
Macron's speech marked the first time a foreign leader had spoken before a joint session of Congress in almost two years.
In the speech, he said the Iran nuclear deal should not be abandoned unless there is something more substantial instead and stressed that the objective is clear: "Iran shall never possess any nuclear weapons."
The French president also spoke about protecting the environment, saying he is confident the US will one day re-join the Paris Accord, and addressed the recent Facebook controversy, which he said highlighted the need to protect citizens' privacy.
Re-watch Macron's speech in full on the player below.