Trump hosts Macron at gala dinner as leaders hint at new Iran nuclear deal
Comments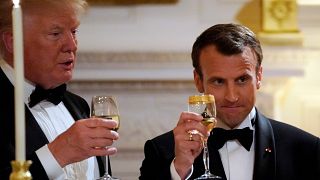 The American and French presidents have pledged to seek stronger measures to contain Iran, hinting at a possible new accord on Tehran's nuclear programme.
Donald Trump and Emmanuel Macron were speaking in Washington on day two of the French leader's state visit to the United States. Macron set out on a mission to try to convince Trump not to walk away from the 2015 accord to which his US counterpart is so opposed.
On Tuesday evening Trump hosted Macron at a formal candlelit dinner before a performance by the Washington National Opera.
Macron: '4 pillars' to a new deal
Earlier, during a joint press conference at the White House, French President Emmanuel Macron said he wanted to work on a new deal with Iran.
"There are four pillars to this new deal," said the French president, "Put an end to Iranian nuclear activity in the short and long term, put an end to ballistic activities in Iran, and find a political solution to contain Iran in the region that involves a solution for Syria."
For his part, US President Donald Trump refrained from committing to stay in the 2015 deal and threatened Tehran with retaliation if it restarted its nuclear programme.
He restated his opposition to the accord struck between Iran and world powers, including the US when Barack Obama – his bitter rival – was in the Oval Office. The deal was insane, terrible and ridiculous, Trump said.
"This is a deal with decayed foundations," Trump said. "It's a bad deal. It's falling down."
A May 12 deadline is looming for Trump to decide on restoring US economic sanctions on Tehran.
Iran has said it will revamp its nuclear programme if the 2015 deal collapses.
Trump: 'Maybe deal, maybe not'
However, the US president also hinted that a new deal could be considered.
"We will have a great shot at doing a much bigger, 'maybe deal, maybe not' deal," the US president said.
"I think we really had some substantive talks on Iran and we're looking forward to doing something [...] I think we're fairly close to understanding each other."
The fact that the US president seems open to considering an accord of some sort over the Iran nuclear issue – even if that means having to negotiate a new one – is being seen in French circles as a sign of progress.
"What was important and new this morning was that President Trump was OK with putting on the table, with France, the idea of a new agreement that should be proposed to, and worked on with, the Iranians," a French official said.
According to Reuters, a source familiar with the internal debate at the White House said one option under discussion was giving Europe more time to toughen the terms of the current Iran deal.
German Chancellor Angela Merkel is also expected to argue in favour of the Iranian nuclear deal when she makes a lower-key visit to the White House on Friday.
Chummy behaviour
Despite their polar opposition on many issues, Trump and Macron have developed a strong personal rapport which has mesmerised observers. The day was marked by some repeatedly chummy gestures as they shook each other's hands and slapped each other's backs.
"On both sides of the ocean some two years ago, very few would have bet on us being here together today," Macron told Trump in a toast at the state dinner – the first given by Trump since he took office in January 2017.
"I got to know you. You got to know me. We both know that none of us easily changes his mind," the French president added with a smile.
The challenges are enormous: as well as the Iranian nuclear issue, Macron wants to persuade his American counterpart not to withdraw US forces from Syria, head off a potential trade war with Europe and limit the damage on climate change after Trump pulled the US out of the 2016 Paris accord.