British government stumbles to third Lords defeat in less than a week
Comments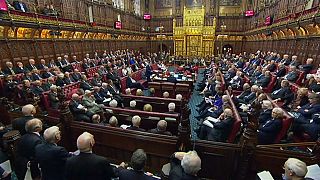 Another packed House of Lords in Britain for another keenly-anticipated Brexit vote, and another heavy defeat for the government, the third in less than a week.
It bodes ill for the government ahead of Thursday's big customs union debate and vote in parliament's lower house, as its policy comes under fire from Brexiteers and Remainers alike, and it faces rebellion in its ranks.
The lower house, the Commons, can overturn the Lords' decision, scrapping its amendments, and will in any case debate them further, but the Lords' divisions extend into the Commons and will also be fought over there.