Mass evacuation in Berlin as WW2 bomb defused
Comments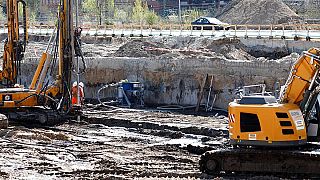 Copyright

Courtesy HANS SCHRAMA/via REUTERS
A large area of central Berlin was to be evacuated Friday morning as experts disposed of a World War Two bomb.
An 800m radius was closed off around the construction site where the 500kg British bomb was found.
The cordon, which includes the German capital's main Hauptbahnhof railway station, was in place and the area completely evacuated by 9 am local time.
An army hospital, the economy and transport ministries and the Indonesian and Uzbekistan embassies all fell in the evacuation zone, a police spokesman told AFP.
Around 10,000 people were thought to be affected.
Deutsche Bahn rail company and other public transport operators warned of large-scale disruptions —local train, tram and bus services all faced disruption.
Berlin's fire brigade tweeted a map indicating the radius that would be cleared.
The bomb was to be detonated at 11.30 am but it could be pushed back to midday depending on how long the evacuation took, a police spokeswoman said.
Police said they had set up shelters for anyone affected.