Watch: Chaos in Nigerian Senate as 'hoodlums' steal mace in packed chamber
Comments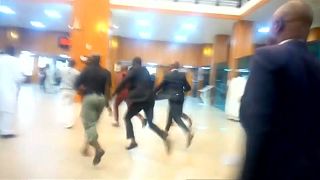 Three men have been filmed bursting into a packed Senate in Nigeria and stealing a symbolic mace.
Officials tackled the group of men as they entered the chamber on Wednesday morning, but one of them managed to evade capture and snatch the staff as confused lawmakers looked on. The thief then brandished it over his head as he ran out the hall.
Together the men outran security and fled the National Assembly Complex, based in the capital city of Abuja, with the mace.
Senate Chairman Aliyu Sabi Abdullahi slammed the "hoodlums" on Twitter, saying suspended senator Ovie Omo-Agege had led the men into the Upper House to seize the symbolic treasure.
"This action is an act of treason, as it is an attempt to overthrow a branch of the Federal Government of Nigeria by force, and it must be treated as such," he said in a statement.
Omo-Agege, who was slapped with a 90-day suspension last week over comments he had made in the chamber, has denied the accusations against him.
The mace forms a central part of legislative proceedings in the chambers. Senate decisions cannot be approved without the ornamental staff, which symbolises the authority of Nigeria's legislature.
On Thursday, the Nigerian Police said they had recovered the stolen mace after a "patriotic passer-by" spotted it lying by Abuja's City Gate.
The investigation into the theft is ongoing.