Malice in Wonderland as Russia dismisses UK poisoning claims as fairytales
Comments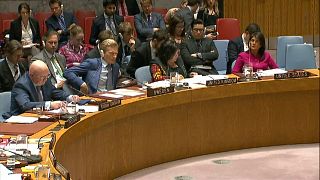 Britain and Russia have traded barbs in the UN Security Council over last month's poisoning of former spy Sergei Skripal.
Russia accused London of "lies and conjecture" and concealing information in its investigation, while Britain accused Moscow of being disingenuous.
"Russia continues to be asked to be involved in the UK's independent investigation..... As I said before, this is an arsonist-turned-firefighter trying to investigate his own fire," said the UK Ambassador to the United Nations Karen Pierce.
The Russian ambassador to the United Nations Vasiliy Nebenzia was unimpressed, and referenced Lewis Carroll, taking the line that the claims against his country were pure fairytales.
"When I listen to some of my colleagues, I am under the impression that this is no longer "Alice in Wonderland". This is "Alice beyond the looking glass". The truth doesn't interest our western partner"
The clash came on the same day the Organisation for the Prohibition of Chemical Weapons (OPCW) rejected Russian claims that its laboratories had found a western military chemical agent in the poison used in Salisbury.