Lords delivers defeat to Theresa May's government over exiting EU customs union
Comments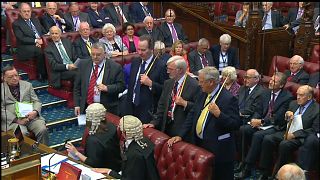 There was a buzz of anticipation on Wednesday night in Britain's House of Lords, parliament's upper chamber, as the government sought to gain backing for Prime Minister Theresa May's refusal to remain in a customs union with the European Union after Brexit.
The vote was expected to be close, but it was not. As voices stilled in anticipation of the reading of the result, a hush fell over the chamber. In fact it was a crushing defeat for the government as the Lords threw out the no customs union amendment with a whopping majority of over 120 votes, to audible gasps and expressions of surprise.
The defeat is yet another Brexit embarrassment for the government, and more are likely as the Lords gets several Brexit votes in the coming weeks.