Britain and Russia wage war of words at chemical weapons conference
Comments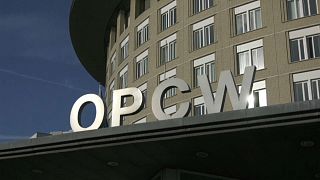 Britain and Russia's war of words has continued at an emergency meeting of the Organisation for the Prohibition of Chemical Weapons (OPCW) in the Hague on Tuesday.
The meeting was called by the UK to discuss the March 4th chemical attack in Salisbury on Sergei Skripal.
Speaking to the press after the event, representatives from both countries accused each other of spreading lies.
''I think the clear thing is that first of all Russia needs to declare its chemical weapons programme and secondly it needs to come clean about what it has been up to." said UK Representative to the OPCW Peter Wilson.
"What was really striking about the session today was that Russia continues to provide huge amounts of disinformation to others," he added.
The Russian representative Alexander Shulgin was equally critical of his British counterparts saying "what we are trying to demonstrate is that everything our British colleagues are saying is a story of lies."
The UK continues to say Russia is responsible for the assassination attempt on the former Russian double agent and his daughter. While his daughter Yulia was discharged last week, Sergei Skripal remains in hospital recovering from the attack.