Scientists develop plastic-eating enzyme
Comments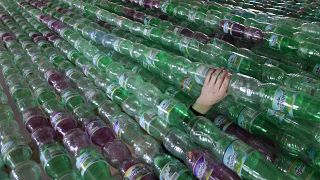 Scientists in Britain and the United States claim to have engineered an enzyme that can digest some of our most commonly polluting plastics.
It is hoped the breakthrough could help solve the global pollution crisis. In the UK alone consumers use around 13 billion plastic bottles a year and more than three billion are not recycled.
PET, the strong plastic commonly used in bottles, takes hundreds of years to break down in the environment.
But now experts have found a natural enzyme that helps to break down PET. Scientists added amino acids to speed up the process. They have called it 'PETase' and it can start eating the same material in just a few days.
The enzyme is a number of years away from widespread use.
Environmentalists know there is an urgent need to reduce the amount of plastic that ends up in landfill, but scientists believe they may just have found part of the answer