ECJ rules Polish logging breaks EU environmental laws
Comments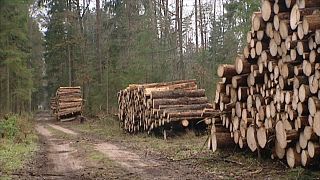 The European Court of Justice ruled on Tuesday that Poland violated EU environment laws by large-scale logging in the Bialowieska forest. The ECJ said tree felling in the ancient woodland endangered many species of birds and insects.
The forest, which straddles the border with Belarus, is home to the almost extinct European bison and has been designated a UNESCO World Heritage site.
The Polish government has argued that cutting down trees was needed to make forest paths safe for hikers and to protect existing trees from a beetle bark infection.
The decision is a blow to the country's ruling nationalist party. The standoff over the forest is one of several flashpoints between Warsaw and Brussels that include migration issues and judicial reform.