Canadian alleged serial killer facing 8th murder charge
Comments
By The Associated Press with NBC News World News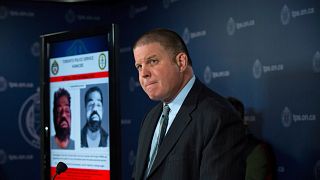 -
TORONTO — Canadian alleged serial killer Bruce McArthur is now facing an eighth murder charge — the death of a Sri Lankan man who had not been reported missing.
Toronto police Detective Sgt. Hank Idsinga said Monday the 66-year-old landscaper has been charged with first-degree murder in the death of Kirushna Kumar Kanagaratnam.
Idsinga said Kanagaratnam's remains were found at a home McArthur used as storage for his landscaping business. The remains of seven othershave also been found in large planters at the home.
Idsinga said Kanagaratnam, 37, arrived from Sri Lanka in 2010 and was not on file as missing. He lived in the Toronto suburb of Scarborough and had no direct family in Canada.
Investigators said he was identified after they took the rare step of releasing photographs of his corpse and appealed to the public for help. Police received more than 500 tips. Idsinga said identification was confirmed with assistance of an international government agency.
Police said there are currently no known links between Kanagaratnam and the"Gay Village" of Toronto which other victims are known to have visited.
The alleged victims fit a pattern: Most were of Middle Eastern or South Asian descent and lived on the margins of Canadian society, their disappearances attracting little attention.
One alleged victim hid the fact that he was gay from his Muslim family. Another was a recent immigrant with a drug problem. Another alleged victim was homeless, smoked crack cocaine and worked as a prostitute.
"There's enough information on the backgrounds of these people that people can draw their own conclusions on that," Idsinga said.
Police say McArthur targeted men he encountered through dating apps that cater to gay men, meeting them at bars in the "Gay Village" area of Toronto.
Police believe Kanagaratnam was killed between Sept. 3 and Dec. 14, 2015. Idsinga said he had some cousins that lived in the greater Toronto area.
Idsinga said more remains might be found in the planters at the home McArthur used as storage and that 75 properties linked to the landscaper are under investigation. Police plan to search them once the weather warms in early May.
"We have a lot of searches still to do," he said.
Idsinga said investigators are looking into 15 other cold cases dating back to the 1975, but have not found a connection.
McArthur made a brief video court appearance on Monday to hear the new murder charge. He has not entered a plea. His lawyer has previously declined to comment on the case and didn't immediately respond to messages for comment on Monday.