Trial begins in Turkey of US pastor Andrew Brunson accused of terror links
Comments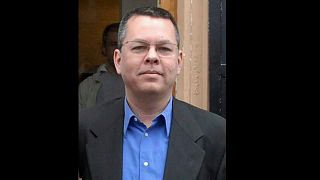 American pastor Andrew Craig Brunson faces up to 35 years in prison when he goes on trial in Turkey for alleged spying offences and links to terror groups.
His hearing was due to begin on Monday in western Izmir province.
The 50-year-old evangelical pastor from North Carolina was arrested in December 2016 for alleged links to both an outlawed Kurdish insurgent group and the network of the U.S.-based Muslim cleric Fethullah Gulen.
Brunson, who has lived in Turkey for 23 years, has denied all allegations, saying that he solely worked as a pastor.
The Turkish government blames the cleric Gulen, who lives in Pennsylvania, for masterminding an attempted coup in 2016.
Washington officials say Ankara is using Brunson's case to force the U.S. to extradite the cleric, and they are calling for his release.
The American Center for Law and Justice, a conservative Christian group in the US, has called Brunson a "hostage of the Turkish government."
A petition has garnered more than half a million signatures, claiming that the case was putting Christianity on trial.