Polish pragmatism: city tarmacs around car blocking road renovation
Comments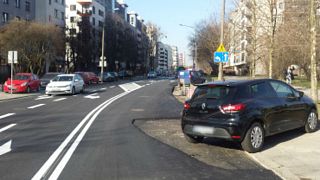 This is what happened when road chiefs in Poland lost patience with a car that was blocking some resurfacing work.
It was one of several vehicles parked in an area cordoned off for upgrades, according to Warsaw's Municipal Roads Authority (ZDM).
ZDM claimed police refused to intervene so it took the decision to tarmac around one of the vehicles violating the cordon on Jana Kazimierza street.
The authority said it had clearly marked that the road was closed off for resurfacing but drivers still chose to breach the ban.
"For the first time in many years we had to deal with drivers who, knowingly breaking the ban, entered the area where the resurfacing was taking place, leaving their cars and thus making it impossible to carry out work," a ZDM spokeswoman told Euronews.
"The situation is so incomprehensible that on the nearby street you can easily find free parking spaces.
"In order not to prolong the closing period of the road, we decided to continue the work to the extent possible."
The incident happened on Saturday, April 7, but ZDM has only just made details available to Euronews.
The authority added that it intends to return to the street at a later date to finish off the delayed resurfacing.
ZDM said it was also looking at whether to charge drivers who break the rules and block works, which incur extra costs for the city.