Migrants wrongly denied legal status in 'flawed' UK system, say lawyers
Comments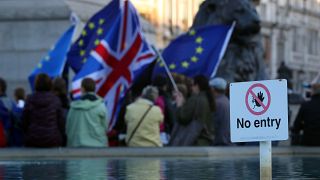 Failures in the United Kingdom's immigration and asylum system are undermining the rule of law and having "devastating" effects on people's lives, according to lawyers.
Government figures have shown that nearly half of appeals are upheld, suggesting that many people are being wrongly refused the right to stay in the UK in initial rulings.
This is "clear evidence of serious flaws in the way visa and asylum applications are being dealt with," says the Law Society, the professional body representing lawyers in England and Wales.
It warns that Brexit may lead to "possibly the largest single influx of applications in its history", when EU nationals are required to officialise their status after the UK leaves the European Union.
Despite cases of "good practice" in the British Home Office (interior ministry), the Law Society says that errors and delays sometimes force applicants — including children — to wait years for decisions.
"While they wait their life is on hold: they cannot plan, may not be allowed to work, travel or access a wide range of state support," said its president Joe Egan.
Visa applications are expensive — family members seeking indefinite leave to remain in the UK are each charged £2,297 (€2,650) — and costs are rising, the society adds. It argues the appeals system is dysfunctional and poorer people cannot meet the extra costs involved when challenging incorrect decisions.
"These grave problems in our immigration and asylum system undermine the rule of law, while also damaging our country's reputation for justice and fairness," Egan concluded.
More than 60,000 people recently signed a petition to prevent the deportation of a doctor from Singapore who has lived and studied in the UK for more than 10 years. Luke Ong alleges the British Home Office has not accepted the result of his appeal that overturned its decision to deny him permanent residency.
Last month, the British government confirmed that over a year there had been a 45 percent increase in the average time taken to clear immigration appeals — up to 51 weeks in 2016-17, from 35 weeks the previous year. Justice Minister Lucy Frazer said in a written parliamentary answer that this was down to outstanding cases being cleared.
The government argues that applications can be complex and appeals are often allowed because of new evidence unavailable earlier.
The campaign group "The Three Million", representing EU citizens living in the UK, has sent a list of 128 questions to the Home Office seeking clarification over the government's plans concerning their status after Brexit. It argues that despite the recent agreement between the UK and the EU to create a new "settled status" for EU nationals, uncertainty remains.