'Feel free to breastfeed here', Pope tells mothers in Sistine Chapel
Comments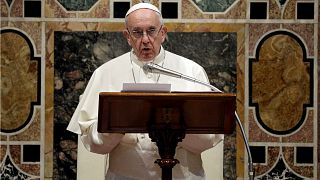 Pope Francis told mothers they were free to breastfeed their hungry children during a long ceremony in the Sistine Chapel on Sunday.
"If they're hungry breastfeed them; don't be afraid, feed them, because this too is the language of love," the Pope said in a short homily.
The Pope baptised 18 girls and 16 boys, including two pairs of twins, during the two-hour ceremony.
He has spoken out in support of breastfeeding in the past.
The papal baptism is a yearly event exclusively for children of Vatican employees or the diocese of Rome.