Le Derby de la Meije — the ultimate off-piste race
Comments
By Vincent Coste & Rafael Cereceda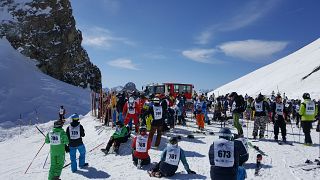 Welcome to La Grave in the French Alps for the 30th anniversary of the "Derby de la Meije", a legendary event for freeride enthusiasts daring to race off-piste.
A single cable car takes freeriders near the tip of mountain Meije, where they disembark onto an off-piste and unpatrolled area. It's from here where everyone is free to choose their "line", to draw their "run"; there are no set courses.
Nearly 900 people from 27 different countries came to take on the valleys of the Meije under the bright sunshine and exceptional snow.
The objective of the racers — whether skiing, snowboarding or using makeshift items — is to hit the 1500 vertical meters as quickly as possible. The fastest freerider soared down in less than seven minutes, while the final finisher clocked nearly three hours.
The Derby, with a budget of only €120,000, is also a festive party, where some took to the slopes disguised as sheep, superheroes, the Eiffel Tower or candles.
In the race's 30-year history, only one has been cancelled. This year, like the previous ones, the Derby has had its share of falls — but never a big accident.
As with every year, the Derby organisers were forced to wait until the last moment to greenlight the weather conditions, giving wild freeriders the all-clear to dive down the Meije.