US National Guard deployed on Mexican border
Comments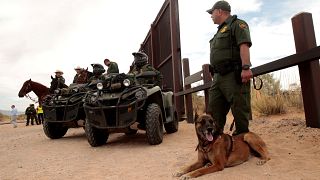 The Arizona national guard has begun deploying troops to help secure the state's southern border with Mexico.
It follows President Donald Trump's failure to get the US Congress or Mexico to fully fund his proposed wall along the border.
Some 225 troops will be deployed in 'Operation Guardian Shield.'
It follows a similar move by Texas on Friday, when it announced 150 guardsmen would be transported to the US-Mexico border.
Then on Monday, state governor Greg Abbott said over 1,000 troops in total would be dispatched in the coming weeks. 
"The goal is to have at least 4,000 (from all border states) deployed here in about a month or two," the Republican said in an interview with radio station KTSA.