Twice as many Britons acquired another EU citizenship in Brexit vote year
Comments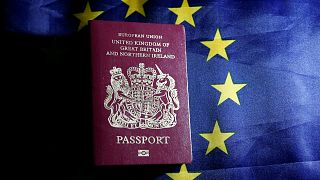 Copyright

REUTERS/Francois Lenoir/Illustration/File Photo
The number of Britons becoming citizens of another European Union country more than doubled in the year of the Brexit referendum, according to new data.
In total, some 6,555 people from the UK acquired citizenship in another of the bloc's states, compared to 2,478 in 2015, marking an increase of 165%, statistics office Eurostat said.
It was unclear how many people acquired the new passports after the UK voted to leave the bloc.
Germany granted the most citizenships to UK nationals in 2016, at 2,702, while Sweden was second at 978.
The UK voted in favour of leaving the EU in June 2016, but is not due to finalise the departure until March 2019.
In total, Eurostat data showed that some 995,000 people became citizens of an EU state in 2016, up from 841,000 the previous year.
Of those, some 12% were former citizens of another EU member state, while the majority were non-EU citizens or stateless.
The largest group acquiring citizenship of an EU member state they lived in were citizens of Morocco (101,300 people), followed by Albania (67,500), India (41,700) and Pakistan (32,900).