State Dept. monitoring reports of new chemical attack in Syria
Comments
By Safia Samee Ali and Reuters with NBC News World News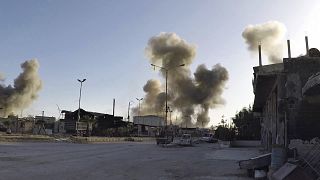 -
The State Department says it is monitoring reports of a possible chemical weapons attack that may have killed dozens of civilians in the eastern Syrian city of Douma.
"We continue to closely follow disturbing reports on April 7 regarding another alleged chemical weapons attack, this time targeting a hospital in Douma, Syria," State Department spokesperson Heather Nauert said in a statement.
"Reports from a number of contacts and medical personnel on the ground indicate a potentially high number of casualties, including among families hiding in shelters," she said. "These reports, if confirmed, are horrifying and demand an immediate response by the international community."
The White Helmets, a Syrian civil defense organization, tweeted several photos and videos of alleged victims Saturday night saying "entire families in shelters gassed to death in #Douma #EastGhouta hiding in their cellars, suffocated from the poisonous gas bringing the initial death toll to more than 40."
The claim has not been verified by NBC News.
The Syrian American Medical Society, which has physicians in the country, said a chlorine bomb hit Douma hospital, killing six people, and a second attack with "mixed agents" including nerve agents had hit a nearby building, Reuters reported.
The Syrian government has disputed any reports of gas attacks, saying the allegations are an attempt by rebels to stop the army from advancing, according to Syrian state news agency SANA.
Douma is located in eastern Ghouta, a region that has been subjected to a bombing campaign that intensified in February. Eastern Ghouta was among the first communities to rise up against the government in 2011.
If confirmed, the use of chemical weapons would be another instance of the banned substances alleged to have been used in Syria's brutal civil war.
Nauert said that the possible chemical attack comes a little more than a year after "Assad's forces conducted a sarin gas attack on Khan Sheikhoun, which killed approximately 100 Syrians," referring to Syrian President Bashar al-Assad.
Nauert said that "The United States continues to use all efforts available to hold those who use chemical weapons, in Syria and otherwise, accountable," and said Russia, which supports the Assad regime "ultimately bears responsibility for these brutal attacks."
The United States calls on Russia to end this unmitigated support immediately and work with the international community to prevent further, barbaric chemical weapons attacks," she said in the statement.
President Donald Trump reluctantly agreed to keep U.S. troops in Syria for an undetermined period of time to defeat Islamic State on Tuesday.
Trump in April of 2017 ordered a cruise missile strike against a Syrian airbase, which he said was in response to a chemical attack that killed dozens of civilians.
The president said on Tuesday that he wanted to get out of Syriaand bring U.S. troops back home. The U.S. has around 2,000 forces on the ground fighting the Islamic State.
A senior administration official told NBC News that Trump reluctantly agreed in a meeting with his national security team Tuesday to keep U.S. troops in Syria for an undetermined period of time to defeat ISIS, but pressured them to end U.S. involvement in the conflict as soon as possible.