Ousted South Korean leader Park jailed for 24 years over corruption scandal
Comments
By Associated Press and Reuters with NBC News World News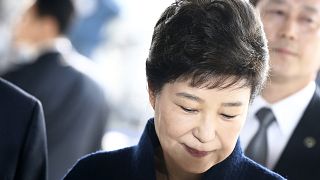 -
Disgraced former South Korean President Park Geun-hye was sentenced to 24 years in prison Friday after being found guilty of abuse of power and coercion over a scandal that exposed webs of corruption between political leaders and the country's conglomerates.
The details came in a nationally televised verdict as a judge read a lengthy statement at Seoul Central District Court.
The court ruled that Park colluded with her old friend, Choi Soon-sil, to receive millions of dollars from major conglomerates such as Samsung and Lotte to help Choi's family and fund non-profit foundations owned by her.
Park has been held at a detention center near Seoul since her arrest in March 2017, but she refused to attend Friday's court session, citing sickness. Park was removed from office early last year following months of massive rallies that saw millions take to the nation's streets calling for her ouster.
Once seen as the darling of South Korean conservatives, she was dubbed "Queen of Elections" by local media for her track record of leading her party to victory in tight races and still has a small group of fierce supporters who regularly stage rallies calling for her release.
Park, 66, maintains that she's a victim of "political revenge" and has been refusing to attend court sessions since October.
Park became South Korea's first democratically elected leader to be forced from office when the Constitutional Court ordered her out over a scandal that landed the heads of two conglomerates in jail.
Park's ouster led to a presidential election won by the liberal Moon Jae-in, whose conciliatory stand on North Korea has underpinned a significant warming of ties between the rival neighbors.
A jail sentence will be a bitter blow for the daughter of a former military dictator, who returned to the presidential mansion in 2012 as the country's first woman leader, more than three decades after she left it following the assassination of her father.
Park has legions of loyal supporters, most of them older conservatives who remember her father's authoritarian 18-year rule, beginning in 1961, when their country began its remarkable surge toward becoming an economic power.