In light of the Lula case a former Brazilian president talks exclusively to euronews about corruption in Brazil
Comments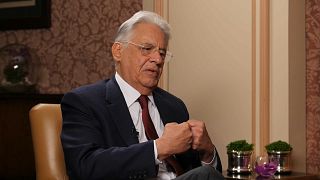 In an exclusive interview with euronews, former Brazilian President Fernando Henrique Cardoso explained the corruption mechanism in Brazil and how society and the legal system are trying to fight it
"The traditional form of corruption was based on a network of personal favours. A system, if you will, that lead to some cases of corruption. What changed is that corruption was transformed into the foundation of party political power.
"What we have now is public companies who sign contracts with private companies. Those contracts are overpriced. That money passes through the private companies and goes to the political parties. And the persons that are nominated for those companies by the government, are nominated exactly to do that, to make the money flow from private companies to the political parties. And so a circle of corruption is formed, and that's is recent, it's not the traditional form of corruption.
"It's not exclusive to Brazil and it was not always like that. It became more important with time. But the country started reacting to that. And that is what "Operation Car Wash" is all about. It is the Brazilian justice system trying to put an end to corruption, in order to show citizens what is being done regarding the issue.
"You know, maybe for the first time in the history Brazil has a lot of powerful and wealthy people in prison. We can say Brazilian society demonstrated its courage with these court cases and investigations, cases that had an enormous impact on the political and financial elite. But we were not the only country in the world adopting these measures. Italy did the same, with some debatable results.
"The other day I said, as a joke, that being president is a dangerous job because you can end up in jail. Things used to be different. But today, how many former Latin American Presidents are in jail? Many.