The Syrian Army claims it has taken control of eastern Ghouta, one of the last pockets of rebel resistance
Comments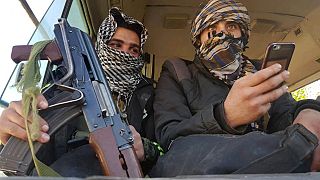 The Syrian Army has released a video showing the national flag being raised in an area of eastern Ghouta that it says is now under government control.
The footage also shows the extent of the destruction in the area of Jobar and Ain Tarma in northeastern Ghouta.
The districts were part of the last pocket of rebel resistance in the area.
Meanwhile, buses evacuating the first contingent of opposition Army of Islam fighters left the rebel stronghold Douma for Jarablus on Monday, according to Syrian state television.
A deal was reportedly reached on Sunday between the rebels, civic leaders and Russia, for them to be moved out of the area along with critically injured civilians.
Some 1,300 fighters, activists, and civilians signed up to leave the town, according to the Britain-based Syrian Observatory for Human Rights monitoring group.
However, rebel groups have denied reaching any kind of deal to move tens of thousands of other people living there.
The move effectively transfers control of Douma to the Syrian government. The rebels had been defending the city against an onslaught by government forces that had been going on for several months.