China's old space lab crashes into South Pacific
Comments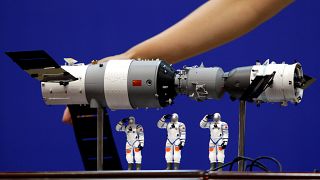 China's defunct Tiangong-1 space lab has finally crashed into the Pacific Ocean after re-entering Earth's atmosphere, according to the country's space agency.
The spacecraft re-turned at 0015 GMT on Monday and mostly burnt up on re-entry.
What was left hit the ocean north-west of Tahiti.
Tiangong-1 was launched in 2011 to carry out docking and orbit experiments.
It was part of the country's efforts to build a manned space station by 2022 but stopped working in March 2016.