Boy, 11, learns of family's death in Kemerovo blaze
Comments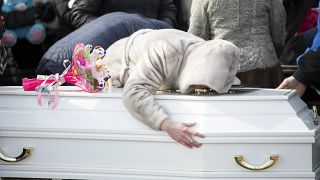 -
A young boy that was caught up in a shopping mall fire that killed at least 64 people has learned that his parents and sister are among the dead.
The 11-year-old was saved when his father threw him from an upper floor window before succumbing to toxic fumes, a Russian news agency reported.
The blaze tore through the four-storey Winter Cherry shopping mall in Kemerovo, Siberia, last Sunday (March 25). It is not yet known what caused the fire, but it is thought to have started by a children's play area on the top floor.
The boy suffered burns and internal injuries, and needed a ventilator to breath in the early stages of treatment, according to RIA Novosti.
A child psychiatrist said relatives and doctors waited several days before breaking the news of the family's death to the boy.
"They couldn't handle themselves out of fear to see the child's severe reaction, they didn't know what words to choose," said Anna Portnova.
She added he "reacted in a way every child would do – he cried," before he asked what would happen to him.
A regional children's ombudsman said he will be cared for by one of his grandparents.
An executive from the firm that owns Winter Cherry has been arrested and Kemerovo's governor has stepped down amid claims that safety violations worsened the fire's death toll.
Investigators revealed fire alarms were shut off and some exits were blocked, hampering shoppers' escape and ensuing evacuation efforts.
It is one of the deadliest fires in recent Russian history.