Malala returns home for first time since she was shot by Taliban in 2012
Comments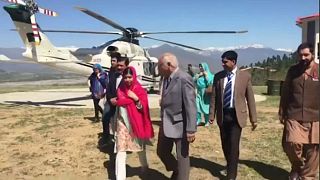 It was an emotional homecoming: Malala Yousafzai has returned to the Pakistani town of Mingora in the Swat valley for the first time since she was shot there by Taliban militants six years ago.
"The most beautiful place on earth to me. #SwatValley #Pakistan."

Women's rights activist
They attacked the then 14-year-old for advocating education for girls. She had been speaking out about it since she was just 11, initially by means of an anonymous blog, and then more publicly.
Pakistan was shocked that the Taliban would target a child in this way.
Unsafe
Malala and her family were flanked by heavy military security as they visited neighbours, having touched down in a helicopter provided by the Pakistani government.
At her old house, Faridul Haq Haqqani, a member of the family now living there reported that she wanted to climb onto the roof as she used to do as a child, but couldn't because of fears for her safety.
Nobel Peace Laureate
Her courage in standing up for the girls' rights has made her the youngest ever recipient of the Nobel Peace Prize.
At her old school, Sahara School and College, there are plenty of students who want to follow in her footsteps. One third grade student called Arifa Akhtar said:
"We are very happy that Malala has come to Pakistan, and we welcome Malala. I am also a Malala, and I am with her on her mission."
Unconvinced
In a region devastated by years of Taliban oppresion, Malala does not enjoy universal popularity in the Swat valley. Some residents remain unconvinced that she did anything special. One, Mohammad Nisar Khan, exclaimed angrily:
"We were the ones who fought against the Taliban, whose houses were destroyed. My four uncles and two cousins were slaughtered by the Talibans in Matta. They were brutally martyred. Yet, no one 's asked about me. Can someone show me one brave deed that Malala Yousafzai has performed in these seven, eight years that we have not performed in 50? Only then, will I be convinced."
The Malala fund
Malala and her family have been living in the UK ever since she was airlifted there for life-saving treatment in 2012.
The Malala fund, which she founded with her father Ziauddin Yousafzai, is "working for a world where every girl can learn and lead without fear".