Funerals begin for 15 Gazans killed by Israeli army on Friday
Comments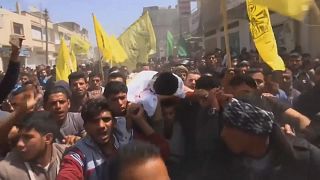 The funerals of the Palestinians who died during Friday's mass protests on the Israeli border have begun in Gaza, with the burial of a 15-year-old.
Hamas has mobilised its followers in Gaza to hold mass protests up until the 15th of May, the 70th anniversary of the creation of Israel.
The UN has called for a transparent inquiry into the deaths.
"These peaceful demonstrators posed no threats whatsoever to Israel or its heavily armed soldiers. Yet its trigger happy soldiers used live ammunition, tear gas and rubber bullets to shoot indiscriminately at those non-violent protesters," claimed the Palestinians' UN envoy, Riyad Mansour.
Israel insists Gazan medical officials have exaggerated the casualty figures and denies using excessive force. Palestinian health officials said more than 750 Palestinians were hit by live rounds on Friday. Gaza City's Shifa Hospital received 284 injured people on Friday, the majority with bullet injuries, a spokesman said, adding 70 were under the age of 18 and 11 were women.
He said 40 surgeries were performed Friday and that 50 were planned on Saturday, all to treat broken limbs and open wounds with damage to nerves and veins caused by live bullets.
Israel claims several dozen at most were injured by live fire while the rest were merely shaken up by tear gas and other means of riot dispersal.
"What we've seen is a violent riot in its clearest form. The Hamas terrorist organisation have sent their people to the border with Israel and Gaza in order to camouflage their true intentions of terror. They've sent their women and their children as a ploy to hide their true intentions," said the Head of Public Diplomacy for the Israeli Defense Forces, Major Keren Hajioff.
Saturday saw far fewer people in the five tented camps set up in the border zone, and the Israeli army warns if violence there continues, it will move against what it calls "terror organisations" in Gaza.
Palestinians mark May 15th as their "nakba," or catastrophe, when hundreds of thousands were uprooted during the 1948 war over Israel's creation. The vast majority of Gaza's 2 million people are descendants of Palestinians who fled or were driven from their homes in what is now Israel.