Thousands witness Hawking's funeral procession in Cambridge
Comments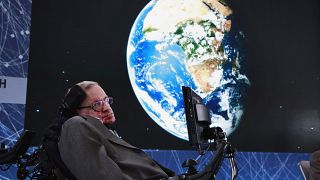 Celebrity guests including Hollywood actor Eddie Redmayne and Queen guitarist Brian May have gathered in Cambridge, England, to mourn the death of renowned physicist Stephen Hawking.
The 76-year-old, who had motor neurone disease, died at his home in Cambridge on March 14.
Up to 500 relatives, friends and colleagues attended the service this afternoon at Great St Mary's church.
Redmayne, who portrayed the theoretical physicist, cosmologist and author in the Oscar-nominated biographical film The Theory of Everything in 2014, gave a reading at the private ceremony.
Eulogies were delivered by Hawking's eldest son Robert, 40, and former student, physics professor Fay Dowker.
Barriers were set up across Cambridge where thousands of spectators witnessed the funeral cortege pass from Hawking's home towards St Mary's.
His ashes will be interred by the grave of influential scientist Sir Isaac Newton, and close to that of the evolutionary naturalist Charles Darwin.
The Dean of Westminster, the Very Reverend Dr John Hall, said it was "entirely fitting" that Hawking's resting place be among "those of distinguished fellow scientists".