American WWII fighter pilot's body returned from France after 74 years
Comments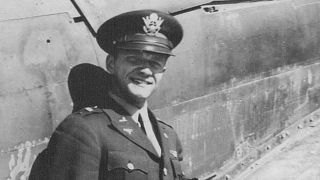 Mark Cooche was just 12 years old when he watched an American World War II fighter plane crash on his family's land in northern France.
The P-47 Thunderbolt bomber came crashing down a week before D-Day in 1944 on a Buysscheure farm, located around 30 km south of Dunkirk.
"We heard a 'boom.' And then the flames. The flames were up to four or five metres high," Cooche said.
The plane and its pilot, Lieutenant Frank Fazekas, were never retrieved after government officials deemed the remains non-recoverable.
Just 22 years old at the time of the crash, he left behind a young wife and baby son.
Lt Fazekas' body remained in a deep crater for over 70 years and a makeshift grave making his resting place was covered over in time so that the land could be used for farming.
That is until researchers at the University of Wisconsin traced the pilot's remains back to Buysscheure as part of a joint scheme with the Department of Defense to help find missing servicemen and women.
Now 74 years old, his son, Frank Fazekas Jr, always thought his father was buried in a Belgian cemetery.
He had planned to scatter his mother's ashes next to his father after she died in 2015, however, thanks to the University of Wisconsin's work, the real resting place of Lt Fazekas was found.
His son was able to visit Buysscheure and the site where the plane went down.
He even met Monsieur Cooche, the man that witnessed his father's final moments, who still lives less than 100 metres from the crash site.
"It was like family almost," said Fazekas Jr.
"He and his wife were so gracious and so warm and welcoming. It was just amazing... he gave me information that nobody else had."
The village of Buysscheure will in May rename a local building after the fallen pilot — Frank Fazekas Cultural Center — and a plaque in his memory will also be added to its monument of local war dead.
After archaeological digs in 2016 and 2017, Lt Fazekas' body could finally be returned home to lie next to his wife's ashes in Virginia.