Police officer discharged from hospital after Salisbury nerve agent attack
Comments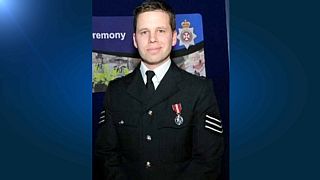 The police officer who became seriously ill after responding to the nerve toxin attack on a former Russian spy and his daughter in the English town of Salisbury has been discharged from hospital, after more than two weeks of treatment.
Details about Detective Sergeant Nick Bailey's condition are being kept private....
Kier Pritchard, Chief Constable Wiltshire Police read out a statement Mr Bailey:
'People ask how I'm feeling. There are really no words to explain how I feel right now. Surreal is the word that keeps cropping up and it really has been completely surreal. I have been so very overwhelmed by the support cards and messages I have received."
Sergei Skripal and his daughter Yulia, remain in critical but stable condition.
Chief Constable Pritchard said the investigation into the incident is "highly likely to take many months"