Meet the football fanatic, 82, at the heart of her team's birthday celebrations
Comments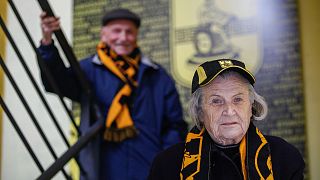 Copyright

Credit: Athens-Macedonian News Agency
Elderly ladies often prefer to spend their Sundays in a leisurely fashion: cooking, knitting or looking after their grandchildren.
But football fanatic Noule Depe, 82, is different.
She's got her own Sunday programme and it usually involves worshipping the players of Aris FC in Thessaloniki, Greece.
Depe has been supporting the team, who currently play in Greece's second-tier league, for more than six decades.
The octogenarian is such a fanatic she's been invited onto the pitch this Sunday (March 25) to sing 'Happy Birthday' to the club.
Aris FC will be toasting 104 years since its founding.
"The first time I entered Aris' stadium I was 18, at a time when women in a stadium could be counted on the fingers of one hand," said Depe, who attends matches with her 87-year-old husband Alexandros.
The pair even follow the team to away matches, Depe told the Athens-Macedonian News Agency.
Such is her devotion she was even at a match a day before she gave birth to her daughter.
"On Sundays, lunch is served early in our house so we will have time to get ready and go to the match", she said.
But it's not always early enough. She's been given at least three speeding fines by police for driving too quickly to get to a game.
"If the game is far and we cannot go, I have to see it on TV or even listen to it on the radio, and I am always praying they win", she said.