US President Trump signs trade memo against Chinese imports
Comments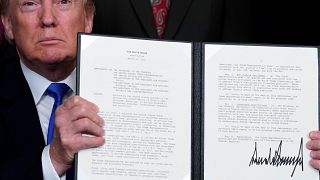 -
Copyright

REUTERS/Jonathan Ernst
The United States will not apply new steel and aluminium tariffs to the European Union, but China will be taxed.
US President Donald Trump has signed a presidential memorandum aiming to slap tariffs on some $60 billion in Chinese imports over forced transfer of intellectual property.
"I've been speaking with the highest Chinese representatives, including the president, and I've asked them to reduce the trade deficit immediately by 100-billion dollars," said Trump.
"So that would be anywhere from 25 percent, depending on the way you figure, to maybe even something more than that, but we have to do that," he added in reference to America's 375-billion goods trade deficit with Beijing.
The directive will open a consultation period by the US Trade Representative's office to look at a list of some 1,300 mainly high-tech Chinese products that could be targeted.
Everett Eissenstat, deputy director of the National Economic Council, earlier told reporters that Trump will also direct the US Treasury to propose measures that could restrict Chinese investments in the US.
'Triumph of reason'
European Union leaders gave a cautious welcome to the news that European steel and aluminium was to be exempt from US tariffs, but said they were awaiting confirmation from Washington.
Germany's DPA news agency reports the exemption will also apply to other trading partners currently negotiating to avoid extra liabilities.
The news has been warmly welcomed by Germany's BGA trade association. In a statement, its chief Holger Bingmann described the decision as a "triumph of reason."