6 people killed in Czech refinery explosion
Comments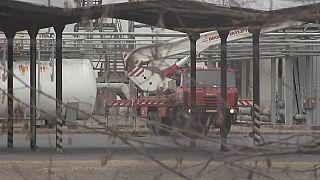 Six people have died and an unknown number have been seriously injured in an explosion at a Unipetrol refinery in the Czech Republic.
At least two of the injured are now being treated in hospital
A tank containing an unspecified substance exploded at the oil processing and plastics producing plant in the town of Kralupy nad Vltavou near the capital Prague.
"The scene has been secured, there is an investigator present who is investigating all of the possible causes and circumstances," Marketa Jonova, a Czech Police Spokeswoman said.
No dangerous substances have leaked out, the spokeswoman added.
Petr Holecek, the town's mayor, said it had been many years since an accident occureed at the plant. "The chemical industry is very safe, this is a really rare occurrence," he said.
The fire department confirmed that there was no risk of additional explosions.
The refinery has an annual capacity of 3.2 million tonnes of oil.