Texas bombings suspect blows himself up near police
Comments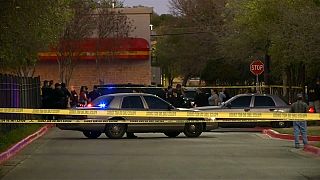 The suspect in a spate of bombings across Austin, Texas, has been identified as 23-year-old Mark Conditt from a nearby town. The manhunt for Conditt ended on Wedneday when a bomb detonated in his car, according to police.
Austin Police Chief Brian Manley said police were following a vehicle Conditt was driving after tips from witnesses. When approached by Swat officers, the 23-year-old suspect detonated a bomb, killing himself and throwing back one officer who sustained minor injuries.
Police have not established a motive for Conditt, who is believed to had carried out a three-week long bombing spree. Manley warned that it was not clear if there were any more bombs left around the city.
Series of bombs
A series of bombs have been detonated across Austin in recent weeks, killing two and severely injuring four others.
Reports of the suspect's death came hours after police said a blast at a Goodwill charity shop on Tuesday evening was not connected to the bombings that have rocked the state capital.
"We did determine that this was not an explosive device. This incident was not related to any of the other incidents we've had here in Austin. This was an old military-type ordinance that initiated in this person's hand and did cause injury," Assistant Chief of Police Eli Reyes said.