Car recovered in Skripal poisoning case
Comments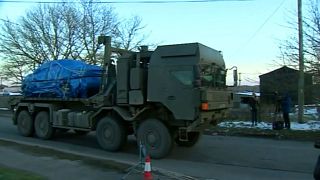 British authorities say they've recovered a car in connection with the novichok nerve toxin attack on a former Russian spy earlier this month.
Earlier media reports suggested that the poison may have been disseminated via car vents.
The vehicle is thought to have been used by a friend of Sergei Skripal, Ross Cassidy, to pick up his daughter Yulia from the airport on 3 March.
Police closed off a road in the village of Durrington, 16 kilometres from Salisbury, where the attack took place.
In a now familiar scenario, tents were erected and paramedics stood by as the military and police searced for clues.
Investigators at Scotland Yard said on Monday that the inquiry was likely to take several months as hundreds of counter-terrorism officers continue to analyse evidence "around the clock".