British art teacher wins prestigious Global Prize
Comments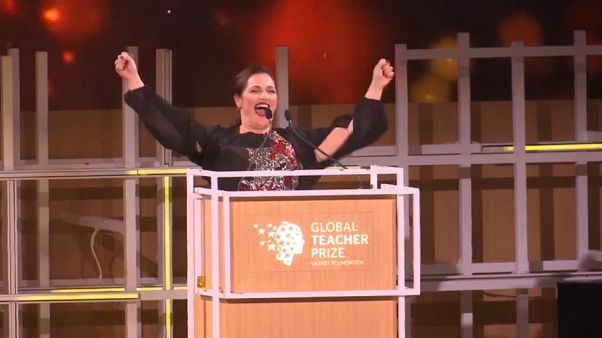 A British art teacher won a highly-competitive 1 million US dollar (€800,000) teaching prize on Sunday for her work with inner-city children in London, helping students feel welcome and safe in a borough with one of the highest murder rates in the country.
Andria Zafirakou, 39, beat some 30,000 applicants from around the world to win the Global Teacher Prize, which honours one exceptional teacher a year who's made a significant contribution to the profession.
She was awarded the annual Global Teacher Prize during a star-studded ceremony in Dubai.
Zafirakou, a teacher at Alperton Community School, was awarded for her work in the London borough of Brent, one of the most ethnically diverse places in the country.
Her students come from some of the poorest families in Britain with parents who don't necessarily speak English.
Zafirakou, who was born in London, praised the diversity of her school's population and said the students are intense in their pursuit of education despite living in crowded homes where it is hard to find a quiet place to study and where many have to care for their siblings after school.
"What is amazing is that whatever issues they are having at home, whatever is missing from their lives or causes them pain, our school is theirs", she said.
Zafirakou, who works as an art and textiles teacher, stressed the importance of funding arts programs in schools and said such programmes teach students how to think creatively, but also teach them resilience and perseverance.
When asked what she plans to do with the million-dollar prize money, she said she'd like to think about a project for her community that celebrates creativity.