Japan's Hifumi Abe shines at Ekaterinburg Judo Grand Slam
Comments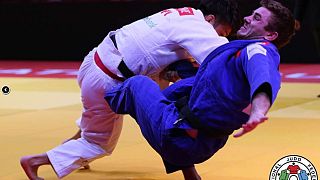 On day one of the Ekaterinburg Judo Grand Slam 2018, our man of the day was Japan's Hifumi Abe. The reigning -66kg world champion powered his way to the final with some trademark attacking judo.
A huge quarter-final sode tsuri komi goshi against Russia's Isa Isaev, was followed up with a beautifully-controlled seoi nage against Dzmitry Minkou of Belarus in the semi final.
In the final it was back to sode tsuri komi goshi to earn a narrow win over home crowd favourite Yakub Shamilov!
"I was aware that in the final, my Russian opponent was very strong," said Hifumi. "And I knew he'd be watching out for me as I became world champion last year. But I was able to overcome him, and doing that gives me a lot of confidence for the year ahead."
Telma Monteiro was our woman of the day. The Portuguese athlete is famous for her quick footwork, and showed why, on her route to the final.
There she would meet Chen-Ling Lien. After throwing her with a tomoe nage for waza ari, she then countered a desperate attempt from Lien to get back in the match, earning a second waza ari and sealing the gold medal. Her fifth grand slam title. And incredibly, a first world tour win since 2015.
"I feel really happy. It feels great as I said I started to compete in the Olympics after the last summer, said Monteiro, "but since that moment I didn't feel like I was when I was fighting. And today I felt like this was the real Telma fighting again and I didn't want to waste my skills. I didn't want to waste this feeling and I'm happy I was able to put everything on the mat.
Elsewhere, Mongolia's Tsend Ochir Tsogtbaatar, was ecstatic as he took under 73kg gold!
Russia's Natalia Kuziutina thrilled the home crowd at -52kg by pipping Brazil's Erika Miranda to top spot. A driving seoi nage followed up with a pin, meant she could celebrate a magical moment in front of a Russian crowd full of adoring fans!
A fantastic moment for Russian Judo, and a moment that Kuziutina will surely treasure for a long time to come.
The -48kg gold medal was presented by Mr Pavel Krekov, Deputy Governor of the Sverdlovsk Region to Japan's Endo Hiromi.
Our move of the day was this incredible Ko Soto Gari by Russia's Abdulla Abdulzhalilov in the -66kg bronze medal contest. A subtle forward twitch followed up by a fully-committed attack in the other direction. Quite simply, perfect.