Six people killed after pedestrian bridge collapses in Florida
Comments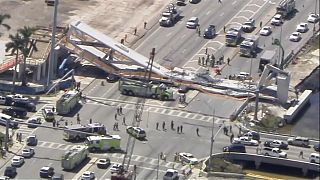 Six people have been killed after a newly erected pedestrian bridge spanning several lanes of traffic collapsed at Florida International University (FIU).
Emergency personnel with sniffer dogs searched for signs of life amid the wreckage of concrete slabs and twisted metal after the 950-ton bridge crushed vehicles on one of the busiest roads in South Florida.
At least eight vehicles were trapped in the wreckage of the bridge and at least 10 people have been transported to hospitals, officials and doctors told news conferences.
Witnesses told local media the vehicles were stopped at a traffic light when the bridge collapsed on top of them at around 1:30 p.m. ET (1730 GMT).
"We're working our way into the pile trying to create holes that we can actually physically see," Miami-Dade Fire Department Division Chief Paul Estopian told reporters.
The 174-feet (53-meter) long bridge connects the university with the city of Sweetwater and was installed on Saturday in six hours over the eight-lane highway, according to a report posted on the university's website.
"If anybody has done anything wrong, we will hold them accountable," said Florida Governor Rick Scott, at a Thursday night press conference, after his office issued statement saying a company contracted to inspect the bridge was not pre-qualified by the state.
FIU president Mark Rosenberg said the collapse "stuns us, it saddens us" in a video posted on Twitter. He added that a "very thorough investigation" would be carried out to establish the cause.
The bridge was intended to provide a walkway over the busy street where an 18-year-old female FIU student from San Diego was killed while trying to cross last August, according to local media reports.
The 11.5 million euro ($14.2 million) bridge was designed to withstand a Category 5 hurricane, the most dangerous measure by the National Hurricane Center, and built to last 100 years, the university said.
The National Transportation Safety Board was sending a team to investigate why it collapsed.
President Donald Trump thanked first responders for their courage on Twitter.
Along with Governor Scott, U.S. Senator Marco Rubio went to the scene of the collapse.
Munilla Construction Management, which installed the bridge said everyone "at the family business are devastated and doing everything we can to assist,"
FIGG Engineering said it took part in the bridge project and the collapse was a first in its 40-year history.
Both companies said they would cooperate fully with investigators.
Colorado-based engineering company BDI said in a tweet on March 12 that it was "thrilled" to have conducted structural monitoring during the "spectacular" process of moving the bridge into place.
The company removed the tweet on Thursday and said in a statement it did so out of respect for individuals affected by the collapse.
With Reuters