London's free tap water scheme aims to slash plastic pollution
Comments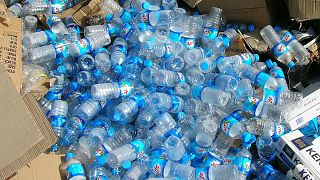 Museums, restaurants and scores of shops in London have joined a special scheme to tackle plastic pollution.
They have pledged to offer free tap water at their venues to dissuade people from buying plastic bottles.
Tate Modern, Costa Coffee and around 60 other venues will take part in the initiative, which is run by Thames Water and campaign group City to Sea.
London mayor Sadiq Khan, who is trying to encourage more businesses to sign up, says the average adult in the UK capital buys 175 bottles a year.
The scheme encourages people to fill up their bottles instead of buying a plastic one and later throwing it away.
City to Sea say not enough people are recycling and plastic is one of the "most serious emerging threats to marine biodiversity".
Khan said: "We all need to try harder to cut the excessive use of single-use plastic bottles, cups and cutlery that can end up pointlessly overflowing our landfill sites, finding their way into our oceans and harming our environment.
"I hope that even more businesses sign up to the scheme to help Londoners make small but significant steps, like refilling our bottles, to drive down plastic waste.
"City Hall is part of the scheme and I encourage everyone to download the free London Refill app to see which outlets are involved."
It comes after a test — involving more that 250 bottles from nine countries — found an average of 10 plastic particles per litre.
The World Health Organisation says it will launch a review.