Vladimir Putin: 'Strong President - Strong Russia'
Comments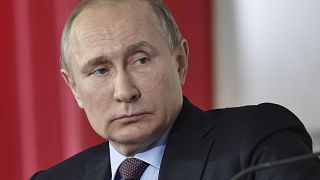 Who can remember Russia without Vladimir Putin?
Certainly not the nation's children. They have known nothing but the former KGB man who has dominated the political landscape for the last 18 years.
Despite his popularity at home, opposition rallies in 2012 marked his last re-election.
And similar scenes of clashes between protesters and police could be repeated in the days following Sunday's presidential election.
There is anger among supporters of anti-corruption campaigner Alexei Navalny, barred from standing over a suspended jail term for what he says is a trumped-up fraud charge.
And three years after his murder, fellow opposition leader and Putic critic Boris Nemtsov, has not been forgotten.
For allies though, Putin has restored national pride and expanded Moscow's global clout with his interventions in Syria and Ukraine.
After the Maidan protests brought a pro-Western government to power in Ukraine, the West threw its backing behind Kiev. Russia responded by backing a separatist insurgency in Ukraine's east and annexing Crimea in 2014.
What did Putin care about international condemnation? Russians saw him as a powerful president - a father of the nation.
Russia's election offers a new chance to make progress on the Minsk peace deal to end the Ukraine crisis, according to German Chancellor Angela Merkel.
However, she has ruled out lifting sanctions before tangible progress - sanctions Russia responded to with a robust retaliatory ban on Western food imports.
Portrayed as a paternal national saviour and macho man rolled into one, Vladimir Putin is now 65-years-old.
His slogan for this election campaign is apt: 'Strong president, Strong Russia'.
with Reuters