Syria: dangerous new conflict within a conflict
Comments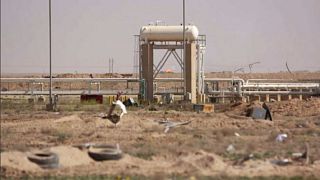 NBC's Richard Engel has an exclusive report from Syria on the emergence of a dangerous new conflict brewing within the country's brutal war.
It involves American troops... and Russians.
Attack in eastern Syria
Richard Engel travelled to eastern Syria, to the barren terrain that was once the heartland of so-called Islamic State. However, the extremist group has now been driven back, and there are fears that coalition forces could end up in a new conflict with the Russian adversaries who have moved into the region.
At an old Conaco oil and gas refinery that now being used as a US base, American troops came under attack by around 500 fighters last month. Amongst them, Russian mercenaries.
Brig. General Jonathan Braga told Richard Engel that:
"On that night we started receiving artillery rounds right where you're standing, upwards of 30 artillery rounds."
When General Braga called the Russian military to ask them to desist, he was told that the attackers were not Russian forces. The US army was unconvinced, however, and launched a counter-strike in which somewhere between 200 and 300 of the enemy combatants were killed.
When asked about whether he was concerned about the possibility of a real war with Russia, General Braga said he was "absolutely concerned".
The Wagner Group
US military officials told NBC News that the Russian mercenaries involved in the attack were from the Wagner Group, a shadowy security firm linked to Yevgeny Prigozhin, a powerful oligarch known as "Putin's Chef".
Intercepted communications between the mercenaries reveals them complaining about their losses: "they tore us to pieces, put us through hell," said one; "the Yankies made their point," said another.
Worryingly, it seems the mercenaries have not given up, as similar forces have been reassembling. "I hope it doesn't happen again, and if it does, we'll be ready," said General Braga.
Kremlin denies involvement
The Kremlin insists that its soldiers were not involved, but has admitted that a small number of "Russian nationals" were killed in the attack.
It is an extremely sensitive issue for US troops within Syria. They are trying to fight so-called Islamic State, but are having to navigate through an increasingly complex - and dangerous - landscape.