Desperate hours in Afrin as ground assault continues
Comments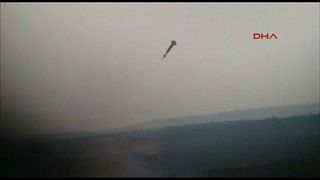 Turkey says it has opened a refugee corridor into besieged Afrin, where the UN says after a week with no water the situation is acute.
Turkey is striking heavily from the air and supporting Syrian Free Army units on the ground, facing stiff resistance as they begin day three of the assault on the Kurdish stonghold.
The Turkish military has released aerial footage it says shows civilians being prevented from leaving Afrin. The military is also accusing the YPG forces of using civilians as human shields, and back in Ankara President Recep Tayyip Erdogan said he hoped the town would fall before the day's end. The YPG dismissed this claim as "unrealistic".
After heavy street fighting the army says it has taken control of "critical areas" of the town, but has not provided details.
Thousands of people have already been displaced and are effectively adrift in a war zone. Syrian military sources say Shi'ite militias loyal to Damascus have deployed alongside the YPG to resist the Turkish incursion.
As the fighting raged Turkish President Recep Tayyip Erdoğan had a meeting with neighborhood heads in the capital Ankara.
Erdoğan stated that the "utmost care" is being taken to avoid harming civilians during the "Operation Olive Branch" against Syrian Kurdish People's Protection Units, (YPG), militants in Syria's Afrin district.
Erdoğan said, "Today, as the operation entered its 54th day, almost 3,500 terrorists have been neutralized and about 1,300 square kilometers of land cleared of terrorists,"
He also promised Turkish forces would soon move against "terrorist camps" in northern Iraq, in co-operation with the Iraqi army.
Erdogan enjoys solid support at home, but it is a different story abroad.
Several hundred pro-Kurdish demonstrators clashed with police during an unauthorised protest outside the U.S. embassy in Paris on Tuesday evening, (March 13), to draw attention to the Turkish assault on the Syrian town of Afrin.
Around 300 protesters gathered near the embassy and were quickly pushed back by riot police who fired tear gas as the demonstrators threw placards.The police attempted to force the protesters to board a bus to have their identities checked at the police station and several were injured in the ensuing crush, with paramedics called to the scene. It was the latest in a series of demonstrations in recent days which have also targeted the Elysee presidential palace and the Russian embassy.