Britain's Ambassador in Moscow summoned to the Russian Foreign Ministry
Comments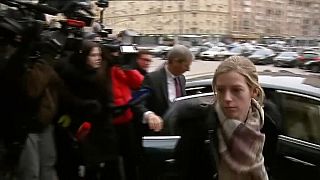 Britain's Ambassador in Moscow, Laurie Bristow was summoned to the Russian Foreign Ministry together with the Deputy Foreign Minister Vladimir Titov on Tuesday.
The Foreign Minister Sergei Lavrov says the British govenrment had refused to provide Moscow access to materials related to the poison attack in Salisbury.
He says this is a violation of the Chemical Weapons Convention. "Before making ultimatums demanding that we report to the British government within 24 hours, they had better act in accordance with international law.......the Chemical Weapons Convention in this case. And speaking about manners, in general, it's necessary to remember that the colonial era is far behind us in the past."
Russian's parliament thinks it's fake news, ahead of the Russian elections. Putin is hoping to be elected for a fourth term. Valentina Matviyenko, speaker of the Federation Council of Russia says "Russia is undergoing a preparation campaign for the presidential elections so that's just another fake news aimed at starting a new stage of a Russophobic campaign."
Russian press writes the case of the poisoning of Sergei Skripal and his daughter could make London the main opponent of Moscow in the West. Many media quote an official written statement of the Foreign Ministry, in which accusations against Russia are called an attempt to discredit the country as the organizer of the World Cup.