Ice bridge collapse dazzles tourists in Argentina
Comments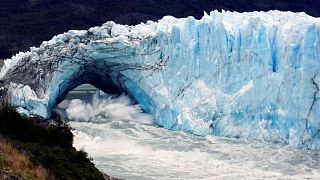 An ice bridge broke off from the Perito Moreno glacier in Argentina's Patagonia region over Saturday (March 10) and Sunday (March 11), in a cyclical phenomenon that attracts thousands of tourists.
Videos shared by the National Parks Administration in Argentina showed the moment the glacier ruptured at Los Glaciares National Park.
The glacier, a massive tongue of ice in the Santa Cruz province that covers 250 square kilometres, advances yearly into a lake, known as Lago Argentino.
As Perito Moreno moves forward, it cuts off a river feeding the lake. Water builds up pressure and slowly undermines the ice, forming a tunnel until ice comes tumbling down.
The ice bridge broke off late Sunday (March 11) and chunks of ice are expected to fall within the next few days. The last rupture was in 2016.