US and European arms sales to Middle East soar amid widespread conflict
Comments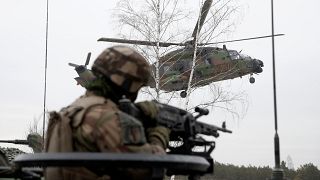 Arms imports by Middle Eastern states have more than doubled over the past decade, with the US and European countries the main suppliers of weapons to the region. This is one of the main conclusions of the latest report by SIPRI — the Stockholm International Peace Research Institute.
The independent think-tank dedicated to arms control and disarmament says the volume of international major weapons shipments rose by 10 per cent between 2013-2017 compared to the previous five-year period — largely due to an increase to the far east and the Middle East.
Five countries — the United States, Russia, France, Germany and China — accounted for nearly three-quarters of all arms exports over the past five years.
Middle East: conflicts fuel arms demand
The report finds that arms imports by states in the Middle East increased by 103 per cent in the two periods from 2008-12 and 2013-17, accounting for almost a third of global weapons imports in the latter period.
It points out that over the past five years most states in the region have been directly involved in violent conflict. In particular, the war in Yemen is believed to have boosted European sales of weapons: heavily backing Saudi Arabia in its intervention against Houthi rebels.
"The USA and European states remain the main arms exporters to the region and supplied over 98 percent of weapons imported by Saudi Arabia," said Pieter Wezeman, Senior Researcher with the SIPRI Arms and Military Expenditure Programme — noting that concerns about conflict and human rights abuses in the Middle East had led to political debate about restricting arms sales.
Saudi Arabia, the world's second-largest arms importer, saw a 225 per cent increase in arms imports in 2013-17 compared to 2008-12. Arms imports by Egypt grew by 215 per cent over the past ten years, making it now the third-largest importer in the world.
Saudi Arabia under the spotlight
In January this year, Germany halted weapons exports to all parties in the Yemen conflict, including Saudi Arabia. It followed much criticism in the country of arms exports to nations with poor human rights records; the government was forced to admit that its sales of weapons to Saudi Arabia and Egypt had risen nearly five-fold in a year.
"Egypt is involved in several conflicts, it has its own internal conflict in the Sinai — where weapons which have been supplied are actually used quite quickly after they have been supplied. There is a major concern about the role of ISIS in particular, again in the Sinai of course but also in Libya — and also there we see that Egypt has used major arms," Wezeman told Euronews, citing an attack on targets using newly-delivered French combat aircraft.
SIPRI believes that Egypt's demand for arms is also influenced by its role in Yemen, where it plays a secondary role alongside Saudi Arabia and the UAE — as well as the fact that the country is under military leadership.
Wezeman believes that the "growing aversion" in several European countries to arms exports to Middle Eastern nations such as Saudi Arabia and the United Arab Emirates could have an impact on the figures in years to come. However, he adds, "there are still plenty of countries which have shown they have no interest in restricting arms sales to Saudi Arabia, and certainly not to the UAE".
The UK saw a 37 per cent increase in arms exports between 2013-17, compared to the previous five-year period of 2008-12. "The increase in exports can be linked to major deals with Saudi Arabia — that's their main arms market by far — and a few other deals," Wezeman says, adding there is no one reason for such a clear rise.
France, which also became a major supplier to Saudi Arabia in the 1970s, saw a 27 per cent increase in arms exports between the two periods, to become the third largest arms exporter in 2013-17. Recent reports suggest little sign of change in French policy over weapons sales to Saudi Arabia.
USA leads, Russia feared
The report finds that the United States has extended its lead as the world's main supplier of arms. Exports increased by a quarter between 2008-12 and 2013-17, and by last year the country accounted for over a third of the global total (34 percent).
"Based on deals signed during the Obama administration, US arms deliveries in 2013-17 reached their highest level since the late 1990s," said Dr Aude Fleurant, Director of the SIPRI Arms and Military Expenditure Programme. "These deals and further major contracts signed in 2017 will ensure that the USA remains the largest arms exporter in the coming years."
Arms exports by Russia decreased by over seven percent between 2008-12 and 2013-17, the report says.
"There was a growing relation with Russia before 2014, even including arms sales to the country, and that of course fell completely away with the invasion of Crimea and the annexation of Crimea, and subsequent sanctions by the EU on Russia including an arms embargo," Pieter Wezeman told Euronews.
He also noted an increasing demand for arms by some of Russia's European neighbours amid growing security concerns. "Some of these countries are quite small," Wezeman said, citing the Baltic states, "but you can see an increasing demand there, and they certainly look at European suppliers to build that demand".
Turkey: 'major changes expected'
Turkey remains an important market for European exporters, but SIPRI's report finds that it is also fast developing its own arms industry, including for export.
The country is the 11th most important client among the five major European arms exporters, while its own exports more than doubled (+145 percent) between 2008-12 an 2013-17 – notably to Turkmenistan, the UAE and Saudi Arabia. However, "They are still dependent on foreign technology, and that causes now some problems for them with regard to some of their suppliers," Pieter Wezeman says.
However, he believes that concerns about Turkey's leadership, foreign policy and domestic situation may have an increasing impact on arms sales. Turkish action against Kurdish groups in Syria have been condemned, as has the crackdown led by President Erdogan's government against dissenting opinion at home.
"In Germany there has been a very clear debate about whether or not to stop arms exports to Turkey or at least restrict them, and right now the tendency is towards restriction," Wezeman says. "But I think elsewhere in Europe… in France as far as I know it hasn't been a major concern yet, and there is still a very big willingness to supply weapons and also weapon technology to Turkey."
The analyst believes that "major changes" are likely in Turkey in the coming years, as the country becomes less dependent on arms imports, especially from Europe.