Russian spy attack: British PM May to address parliament
Comments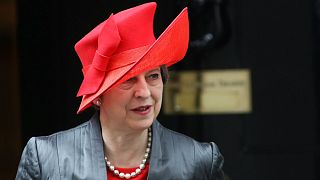 -
Copyright

REUTERS/Simon Dawson
Theresa May convened her National Security Council on Monday and was due to address parliament later in the afternoon to discuss how to respond to the attempted murder of former Russian spy Sergei Skripal.
Having met top ministers and security officials, the British prime minister will make a statement at 1630 GMT (1730 CET), according to her office at Downing Street.
Sergei Skripal, 66, and his daughter Yulia, 33, have been in hospital in a critical condition since March 4, when they were found unconscious on a bench outside a shopping centre in the southern English cathedral city of Salisbury.
British counter-terrorism police say a nerve agent was used on the pair, but they have refused to say publicly which poison was used.
The chairman of the British parliament's foreign affairs committee, Tom Tugendhat, said the attack looked like state-sponsored attempted murder and he expected May would say Russia was responsible.
"Frankly, I would be surprised if she did not point the finger at the Kremlin," Tugendhat told BBC radio.
Moscow has fiercely denied any involvement and has accused the UK of stirring anti-Russian hysteria.
The British government has pledged a "robust" response to the attack. It's under growing pressure to take a tougher stance than it did after the poisoning of another former spy, Alexander Litvinenko, who died in London in 2006 after drinking green tea laced with radioactive polonium-210.
However, exactly how Britain might react to evidence that Moscow was implicated in the latest attack is unclear.
Possible options could include the expulsion of Russian diplomats; financial sanctions on figures linked to the Kremlin; diplomatic efforts with EU and NATO allies; or the withdrawal of UK officials from the 2018 World Cup set to be held in Russia in June.
For several of these options, the UK would likely seek cooperation with the EU, just it negotiates the terms of its exit from the bloc.
For now, public health authorities have advised hundreds of people who visited Salisbury's Zizzi restaurant or the Bishop's Mill pub to wash their belongings after traces of the nerve agent used to attack Skripal were found at both sites.
In a broadcast on Sunday (March 11), Russian state TV suggested Britain itself had poisoned Skripal to upset the soccer World Cup, which Russia is hosting in June and July.
"As a source, Skripal was completely wrung out and of little interest. But as a poisoning victim, he is very useful. Why not poison him? It's no big deal. And with his daughter to make it more heart-wrenching for the public," Dmitry Kiselyov, the country's top pro-Kremlin presenter, said on the weekly TV news programme 'Vesti Nedeli,' (News of the week) on the Rossiya 1 channel.
Skripal betrayed dozens of Russian agents to British intelligence before his arrest in Moscow in 2004. He was sentenced to 13 years in prison in 2006, and in 2010 was given refuge in Britain after being exchanged for Russian spies.