Video: Nightclub slammed after horse taken onto dancefloor
Comments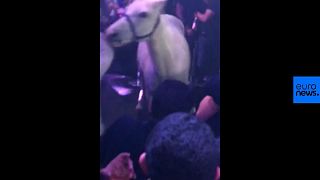 A US nightclub has lost its licence after footage emerged of a horse being taken onto the dance floor.
The bizarre incident happened at the Mokai Lounge in Miami Beach, Florida.
The white horse is seen becoming increasingly agitated and distressed after it was led into the crowded nightclub.
City officials said they withdrew the nightclub's business licence on Friday after learning of the incident.
Jimmy Morales, city manager for Miami Beach, said: "I was disgusted and offended that any legitimate business person would think this was an appropriate action to take.
"This activity was not permitted, and as soon as we became aware, I immediately instructed staff to act swiftly in remedying this situation."
"Animal cruelty is an abhorrent and vile act," said Miami Beach Mayor Dan Gelber. "I fully support the immediate actions taken by the city manager and his staff to ensure that this is remedied quickly."