Thousands march to preserve Ireland's near-total abortion ban
Comments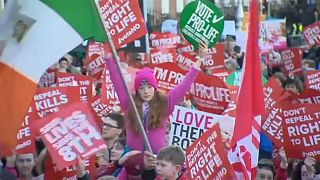 -
Thousands of anti-abortion campaigners descended on Dublin to rally against plans to ease some of the world's most-restrictive abortion laws.
At least 10,000 people hit the streets of the Irish capital on Saturday to call on the government not to scrap the eighth amendment to Ireland's constitution, which recognises the equal right to life for the mother and her unborn child.
Irish voters will be asked in a referendum — set to be held before the end of May — if they want to scrap the amendment and let parliament set the laws.
The government says if the country votes to ease abortion laws, legislation will be drafted allowing women to terminate up to 12 weeks into the pregnancy.
At the moment abortion is only allowed when the pregnancy puts the women's life at risk, but not in cases of rape, incest or fatal foetal abnormality.
Related reading: which European countries have the strictest abortion rules?
Two opinion polls in January found that over 50 percent of voters would support a proposal to allow abortion up to 12 weeks into a pregnancy, with just under 30 percent opposed and the rest undecided.
However, the polls showed a sharp generational divide with a clear majority of voters over 65 opposed.
"I am canvassing three times a week and people are pro-life, they are just afraid to say it," said Deirdre Lawless, 32, a schoolteacher from the rural west of Ireland.
A number of activists complained of what they believed was a strong media bias in favour of loosening abortion laws. But they also said that the pro-choice movement may be overconfident.
"We will win because of the hubris of the other side," said Gerry McGeough, 59, a member of the Catholic Irish nationalist group Ancient Order of Hibernians who travelled down with several busloads of activists from the Northern Ireland county of Tyrone. "Traditional Ireland has finally awoken," he said.
Footage from Saturday's march